My dear friend and artisan, Barb, over at Bronson Hill Arts has designed a lovely set of handmade butterfly notecards and grouped them into a collection called the Flights of Life Collection.

There are four different butterfly designs in the collection set. Aside from the obvious (how beautiful they are!), Barb has graciously offered to donate a portion of the proceeds from the sale of each set to the Lungs for Life Foundation.

These cards have such a variety of uses from a simple handwritten note to a friend to a, birthday card, get well card (perfect for someone recouping in the hospital), 'just because' card or really any occasion. Your purchase will not only support artisan handmade goods, it will also support the mission of the Lungs for Life Foundation.

To order your collection set, simply visit Barb's blog and click on the "ordering" page.

A special THANK YOU to Barb for joining in the support of the Lungs for Life Breathe Blog and for being a sponsoring supporter.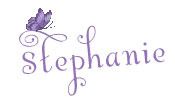 Read more...